 
Secure payment

Free shipping

Customer service
Custom Made Mascot Costume
Custom Mascot Costume
Fiesta Mascot offers  thousands of mascots models, however if you do not find your happiness, we can manufacture your custom mascot from your photos, drawings or visuals.
Light wear and comfortable mascot costume. Free shipping. Secured Payment.
Custom Mascot Costume
Fiesta-mascotte offers this custom mascot disguise to animate your events (sportive, associative, advertising and marketing campaigns, theme parties or visual identity). This custom made mascot disguise is perfect for your fancy dress parties.
Fiesta-Mascotte offers the manufacturing of your custom-made mascot: animal mascot, character mascot or object mascot without design constraint. You choose the design, color and the (s) logo (s). The custom-made mascot formula allows you to add the logo of your choice.
How to order custom mascot :
To create your customized mascot, simply add the product to your cart by specifying the size and accessories (fan, logos) and send us your visuals through the customization product tab.
Warning: Please send a maximum of visual detailing your mascot: front, back and profile so that your mascot will be most simila. We accept color drawings, sketches, models or other photos in jpeg, png, pdf and ai. If you do not have good enough visuals, it is possible to create a graphical realization of your mascot from your items for an amount of €70.
Note: It is not possible to make toolarge custom mascots for shipping constraints. We reserve the right to cancel your order for these reasons: volume too big, not specific enough visual (impossible to achieve).
Examples of feasible custom mascots / no feasible from customers visuals: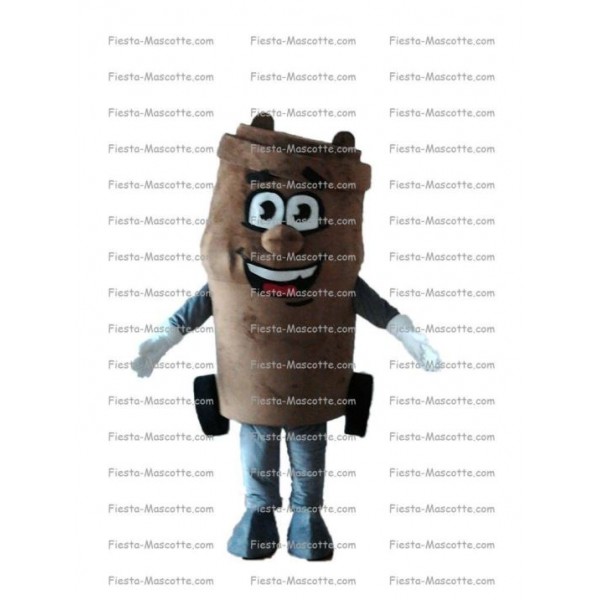 CUSTOM MASCOT COSTUME INFORMATION :
A complete mascot costume includes:
- The head (realized with rigid and light foam)
- The body (with zippers)
- The gloves and the shoes
These elements can vary according to the design and conception of the mascot costume.
The Custom Mascot Costume is made with polyester fabrics (hand washable or machine washable at low temperature and with smooth detergent).
We offer 6 sizes for your Custom Mascot Costume: S, M, L, XL, 2XL and 3XL.
See our size guide here: Size guide.
To improve the comfort in the mascot and regulate the temperature, you can add a battery fan.
Mascot costume manufacturing :
According to the wide choice and the customizable size of the mascot costumes, the mascot costumes are made-to-order.
The average manufacturing and delivery time is about 3 or 4 weeks (for France). Depending on the materials availability, this time can be increased by few days more.
Mascot costume delivery :
We offer free shipping for all our mascot costumes.
We regularly deliver in France, Belgium, Switzerland, Germany, Spain, and all over the world.
The average manufacturing and delivery time is about 3 or 4 weeks after order confirmation (delay for France).
The delivery is ensured by an international carrier; tracking number will be provided when the mascot is dispatched. Your discount mascot will be packaged in a shipping carton box according to its size.
Mascot costume customization :
You can customize your Mascot Costume with your logos and colors.
To do this :
1. Add in your cart, the customization that you want.
2. Click on the "CUTOMIZATION" tab and add your logo and/or text. These options allow you to personalize your mascot costume.
More information at the following link : Customization with logos and colors.
Custom-made mascot costume :
If you do not find the mascot you want among the thousands of mascots models in Fiesta-Mascotte, you can order a custom-made mascot from your own model or picture.
See conditions here : Custom-made mascot.
Contact / Help :
The customer service of Fiesta Mascotte is available by email or chat, on Monday to Friday and from 10 am to 5 pm.

Fiesta-mascotte.com offers a wide choice of disguises and discount mascot costumes to succeed all your events, advertising and marketing campaigns and all entertainments. If you have any questions, please contact us by mail or chat.
1 other product in the same category: