Fiesta Mascotte : Our achievements
Fiesta Mascotte makes mascot costumes directly from the visuals offered on the site or by its customers. You will find below several real creations of mascots to illustrate our creations and our skills.
Each mascot costume confection is unique because it takes into account the elements of personalization chosen when ordering (namely the design, size, addition of logo, or even color changes).
The goal is to make the most different mascots according to your needs and constraints.
MODEL / ACHIEVEMENTS
The "model" is on the left and the mascot made on the right "achievement". These are examples of costumes made without being exhaustive and selected randomly
The large choice of models of mascots presented on Fiesta-Mascotte.com requires a confection made to order.
Pink bear mascot made of synthetic faux fur fabrics. The mascot has a large padded belly (bear cartoon animal mascot). Perfect as a BDE mascot.
Personalized pink fairy mascot with logo for a dance club, with its magic wand. (Character mascot). The dream mascot for an association.
Orange mascot made for a brand of orange juice (fruit and vegetable mascot). The dimensions of this mascot are very wide, around 120cm in diameter. The costume for all seasonal workers!
Snoopy dog ​​mascot for the pleasure of big cartoon lovers (cartoon mascot). Beware of white mascots ... quite messy. A great classic for fairs or school parties..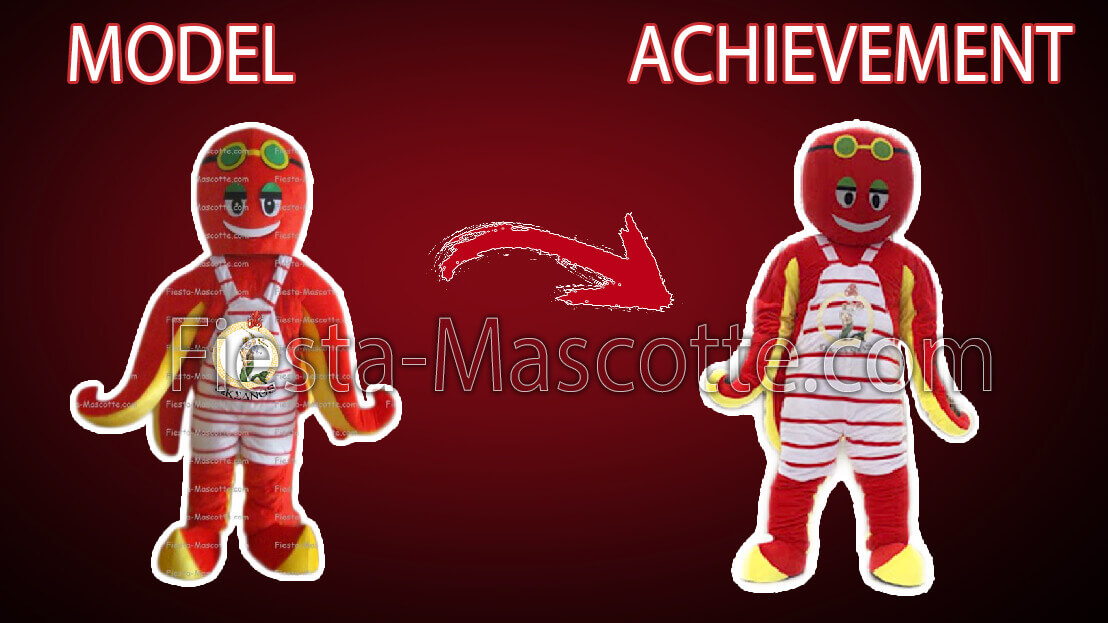 Red octopus mascot personalized with a customer logo at the level of the overalls. Ideal to accompany you to the pool.
Gray koala mascot made of fake fur (animal mascot). The costume consists of the head, the body of gloves and shoes. Timeless mascots for associations or schools.
Custom purple monster mascot made from a customer drawing. The vision is placed above the eye. It's a corporate mascot made from their logo.
Hedgehog mascot made with his evening clothes (jacket and pants), ready for the presentation of your gala. A mascot for students or student office.